Trash Compactor Sales and Installation
We're proud to be an official Auto-Pak representative, authorized to sell, install and service this premier line of trash compacting equipment. The Auto-Pak line includes both horizontal and vertical commercial trash compactors that can be hand-fed. Some can even be connected to construction trash chute systems, useful in certain settings like hi-rise trash compactor apartment buildings. Our equipment is safe and easy to use, and we install it on-site expediently. Trash compactors make dealing with waste a lot easier for a wide range of businesses, helping them handle four to five times the amount of waste in some cases. Since compactors help a business save space, they also provide many additional benefits:
Reducing the frequency of trash pickups, saving you time and money.
Reducing employee time dedicated to handling waste.
Improving convenience for residents and workers when it comes to waste disposal.
Improving the appeal of your property by efficiently containing waste.
Trash Compactor Repairs
We don't just install your commercial trash compactor in Pittsburgh, PA; we can service it and keep it in excellent working condition, too. Our expert technicians provide timely and efficient chute door repairs and replacement, ensuring that your equipment is always ready to work when you need it to. We even provide emergency services—no matter when you need us, we're always standing by to help.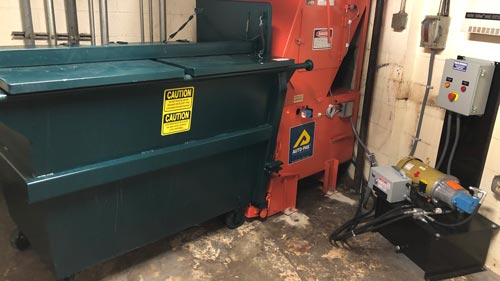 Your Reliable Commercial Trash Compactor Service
Punjack Mechanical LLC has the solution for your commercial and industrial trash compactor needs. Whether you need a compactor for a new business, a construction trash chute for a new build, or expert-level repairs on your current machine, our compactor and boiler service experts can take care of it. Contact us today at 412-488-6449 to learn more.